Agent Brown
Talk

0
1,203pages on
this wiki
Redirected from Brown
Agent Brown
Physical description
Height

177 cm

Eye color

Brown

Purpose
Purpose
Chronological Information
Appearances

  [Source]
Agente Brown  was one of the sentient ' Agent programs ' side with Jones and Smith.
Biography
Edit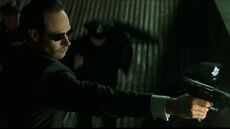 He was the first agent to have a prominent role , as was the one who chased Trinity rooftops. E ' above the background work from then on , until injected Morpheus codebreaker with a program (in the form of a liquid silver ) , while being interrogated by  Agent Smith .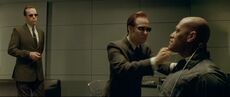 He, like the other two agents , was again temporarily killed when Neo them blow away with a minigun mounted chopper . After Neo cleared Smith , both he and Officer Jones ran away and were never seen again.
It ' may have been deleted and replaced with the agents Superiors,  , or , presumably , has been updated to become  Thompson , Jackson , o Johnson .
Dietro le quinte
Edit
gent Brown is played by  Paul Goddard , who also plays Stark in the long- running Australian sci-fi show  Farscape .
There are no flowers in the real world