Agent Brown
Talk

0
1,198pages on
this wiki
Redirected from Brown
Agent Brown
Physical description
Height

177 cm

Eye color

Brown

Purpose
Purpose
Chronological Information
Appearances

  [Source]
Agent Brown was one of the sentient 'Agent' programs alongside with Jones and Smith.
Biography
Edit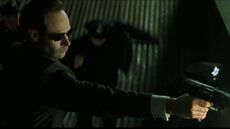 He was the first Agent to have a prominent role, as he was the one that chased Trinity across the rooftops. It's mostly background work from then on in, until he injected Morpheus with a codebreaker program (in the form of a silvery liquid) while he was being interrogated by Agent Smith.
He, like the other two Agents, was again temporarily slain when Neo blasted them away with a chopper-mounted minigun. After Neo deleted Smith, both him and Agent Jones ran away and were never seen again.
It is possible that he was deleted and replaced by the Upgraded Agents, or, conceivably, was upgraded himself to become Thompson, Jackson, or Johnson.
Behind the Scenes
Edit
Agent Brown is played by Paul Goddard, who also plays Stark in the long-running Australian sci-fi show Farscape.
Appearances
Edit