This article is about the bluepill character, for Emma Pearson's doll see Charlie (doll)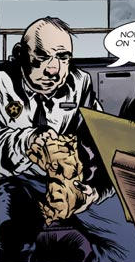 Charlie was a bluepill, formerly a policeman for 28 years.
He worked as a security guard in Grau Industries building and used to sleep on post, although insisting he didn't. He tried to dissuade his colleague, Pete to join the police forces, since he said that security job is ending the career, not beginning it.
One evening, a redpill from the Resistance caused an explosion and entered the building. Charlie transformed into an Agent and fought the intruder.
Appearances
Edit
Ad blocker interference detected!
Wikia is a free-to-use site that makes money from advertising. We have a modified experience for viewers using ad blockers

Wikia is not accessible if you've made further modifications. Remove the custom ad blocker rule(s) and the page will load as expected.