Construct
Talk

0
1,203pages on
this wiki
"This... is the Construct. It's our loading program. We can load anything, from clothing... to equipment... weapons... training simulations... Anything we need."
―Morpheus, about the Construct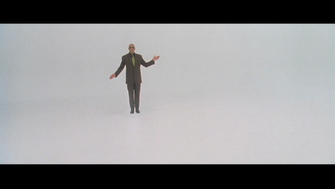 The Construct is a virtual workspace (or "loading program") created by the Resistance to run simulations or upload virtual objects when they hack into the Matrix.
The Construct initially appears as a completely dimensionless, empty white area. Once a program is loaded, however, the Construct's operation is generally indistinguishable from that of the Matrix, and it follows the same basic rules of physics. It comes with a decoder included - unlike the Matrix itself, the activity in a simulation can be watched on the Operator's monitors as though through a security camera[1]. People do not need to dress in the Construct; their RSI is prepared or accessible before they enter the work area.
Morpheus used the Construct to educate Neo on the truth about the Matrix, showing him what the Earth actually looked like in the present time. After that, Morpheus took Neo through a series of training simulations to assess and explore his combat abilities, as well as to teach him the powers of mind over "body" while within a virtual world. Later, in preparation for rescuing Morpheus from agents in a heavily fortified government building, Neo and Trinity enter the Construct to gather many weapons and a bomb for use in their mission.
Mouse used the Construct in a less wholesome fashion, mostly for one-to-one meetings with the Woman in Red. Thadeus and Jue combined business and pleasure in their Sparring program, while Cis had her loyalty tested while in her favorite simulation.
References
Edit
↑ This can be seen during the Dojo fight sequence in The Matrix.