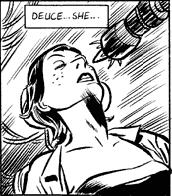 Deuce was a crew member of the Mariner.
She had a mission in the Matrix with her crew members in Phoenix. Rook called them about the attack. Speedy pulled off the road and headed for the nearest exit but he died and the car crashed. She with Rocket ran for the phone booth, but a Sentinel smashed her head.
Apppearance
Edit
Ad blocker interference detected!
Wikia is a free-to-use site that makes money from advertising. We have a modified experience for viewers using ad blockers

Wikia is not accessible if you've made further modifications. Remove the custom ad blocker rule(s) and the page will load as expected.