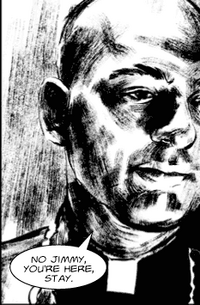 Father Mike was a bluepill priest who raised Jimmy until Jimmy left and worked for the cirme boss Kaplan.
When Jimmy betrayed his former organization, and after being possessed by an Agent, leaving him with the dead bodies that the Agent had killed, he went back to the church to confess to Father Mike, who let him sleep in his old room. When two redpills came to reclaim a device from him, Mike changed into an Agent and was shot.
Appearances
Edit
Ad blocker interference detected!
Wikia is a free-to-use site that makes money from advertising. We have a modified experience for viewers using ad blockers

Wikia is not accessible if you've made further modifications. Remove the custom ad blocker rule(s) and the page will load as expected.