Ad blocker interference detected!
Wikia is a free-to-use site that makes money from advertising. We have a modified experience for viewers using ad blockers

Wikia is not accessible if you've made further modifications. Remove the custom ad blocker rule(s) and the page will load as expected.
Gloria Foster
General information
Date of birth

November 14, 1933

Occupation(s)

Actress

Matrix role
Other works

City of Hope, Nothing but a Man, The Cool World

  [Source]
Gloria Foster (November 15, 1933 – September 29, 2001) played The Oracle during the first two Matrix movies. In 2001 she died from diabetes, and was replaced by Mary Alice in Revolutions.
Early life
Edit
Gloria Foster was born in Chicago, Illinois. As a young child she was put into custody of her mother's grandparents. Gloria Foster never knew who her father was and she moved to Janesville, Wisconsin after her mother was hospitalized for a mental illness. She attended the University of Illinois.
Filmography
Edit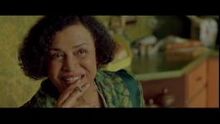 The Matrix Reloaded (2003) as The Oracle
The Matrix (1999) as The Oracle
City of Hope (1991) as Jeanette
Leonard Part 6 (1987) as Medusa
Man and Boy (1972) as Ivy Revers
The Angel Levine (1970) as Sally
The Comedians (1967) as Mrs. Philipot
Nothing But a Man (1964) as Lee
The Cool World (1964) as Mrs. Custis
Television
Edit
Percy & Thunder (1993) as Sugar Brown
Law & Order (1992) as Mrs. Tate
Separate But Equal (1991) as Buster
The Cosby Show (1987) as Dr. Barbara Bracy
The Atlanta Child Murders (1985 miniseries) as Camille Bell
House of Dies Drear (1984) as Sheila Small
The Files on Jill Hatch (1983) as Mrs. Hatch
Top Secret (1978) as Judith
To All My Friends on Shore (1972) as Serena
I Spy (1968) as Shana
The Bill Cosby Show (1970 TV series) as Dolores Winters