Keanu Reeves
Talk

0
1,203pages on
this wiki
Keanu Reeves
General information
Date of birth

September 2, 1964

Occupation(s)

Actor, Musician

Matrix role
Other works

Speed, Constantine, A Scanner Darkly

  [Source]
Keanu Reeves a Canadian actor most notably known for the role of Neo throughout  The Matrix Trilogy.
Biography
Edit
Pre-Matrix
Edit
Reeves was born in Beirut, Lebanon.
Reeves made his on-screen acting debut in 1979, in the Canadian CBC production of Hanging In. He since appeared in numerous commercials and short films. He also acted on-stage in Toronto.
The Matrix Franchise
Edit
The MatrixEdit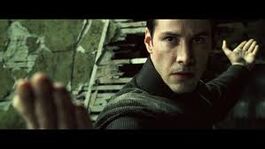 Prior to training martial arts for the film, Keanu had just injured his neck, and was forced to wear a neck brace during rehersals and physical training. Though technically handicapped, he continued to train to the fullest extent of his capabilities, often surpassing the other actors.

The Matrix Reloaded and Revolutions
The Path of Neo
Edit
Post-Matrix
Edit
Filmography
Edit
Babes in Toyland (1986): Jack
River's Edge (1986): Matt
Youngblood (1986): Heaver
Flying (1986): Tommy
Permanent Record (1988): Chris Townsend
The Prince of Pennsylvania (1988): Rupert Marshetta
The Night Before (1988): Winston Connelly
Dangerous Liaisons (1988): Le Chevalier Raphael Danceny
Bill & Ted's Excellent Adventure (1989): Ted "Theodore" Logan
Parenthood (1989): Tod Higgins
I Love You to Death (1990): Marlon James
Tune in Tomorrow (1990): Martin Loader
Point Break (1991): FBI Special Agent John 'Johnny' Utah
Bill & Ted's Bogus Journey (1991): Ted "Theodore" Logan/Evil Ted
My Own Private Idaho (1991): Scott Favor
Bram Stoker's Dracula (1992): Jonathan Harker
Much Ado About Nothing (1993): Don John
Little Buddha (1993): Prince Siddhartha/Lord Buddha
Even Cowgirls Get the Blues (1994): Julian Gitche
Speed Officer (1994): Jack Traven
Johnny Mnemonic (1995): Johnny
A Walk in the Clouds (1995): Paul Sutton
Chain Reaction (1996): Eddie Kasalivich
Feeling Minnesota (1996): Jjaks Clayton
The Last Time I Committed Suicide (1997): Harry
The Devil's Advocate (1997): Kevin Lomax
The Matrix (1999): Thomas Anderson/Neo
The Replacements (2000): Shane Falco
The Watcher (2000): David Allen Griffin
The Gift (2000): Donnie Barksdale
Sweet November (2001): Nelson Moss
Hardball (2001): Conor O'Neill
The Matrix Reloaded (2003): Thomas Anderson/Neo
The Animatrix: Kid's Story (2003): Thomas Anderson/Neo
The Matrix Revolutions (2003): Thomas Anderson/Neo
Something's Gotta Give (2003): Dr. Julian Mercer
Constantine (2005): John Constantine
Thumbsucker (2005): Perry Lyman
Ellie Parker (2005): Himself
The Lake House (2006): Alex Wyler
A Scanner Darkly (2006): Bob Arctor
Street Kings Detective (2008): Tom Ludlow
The Day the Earth Stood Still (2008): Klaatu
The Private Lives of Pippa Lee (2009): Chris Nadeau
Passengers (2010): Jim Preston
Cartagena (2010): Character Unknown
Henry's Crime (2010): Henry
Jekyll (2011): Dr. Jekyll
Cowboy Bebop (2011): Spike Spiegel
Hanuman (2011): Ram
47 Ronin (2012): Kai