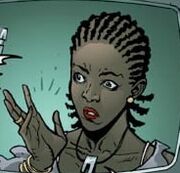 Kitt Pritchard is an announcer of Culture Beat of Channel 11.
She had an on-location report at Hednet Gallery on the opening night for sculptor Raven Underwell.
As she demostrated the invitation ticket on screen, a potential teleported it on his hand
Her colleague was particularly interested in the hors d'hoevres.
Appearances
Edit
Ad blocker interference detected!
Wikia is a free-to-use site that makes money from advertising. We have a modified experience for viewers using ad blockers

Wikia is not accessible if you've made further modifications. Remove the custom ad blocker rule(s) and the page will load as expected.