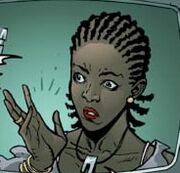 Kitt Pritchard is an announcer of Culture Beat of Channel 11.
She had an on-location report at Hednet Gallery on the opening night for sculptor Raven Underwell.
As she demostrated the invitation ticket on screen, a potential teleported it on his hand
Her colleague was particularly interested in the hors d'hoevres.
Appearances
Edit