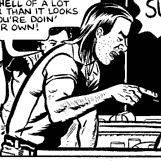 Larry Little was a bluepill thug who was once a childhood friend of Rocket, who helped him knock over ATMs.
When Rocket was liberated from the Matrix, he did not see him again until Larry found him in a restaurant. Due to an ironic remark Rocket made, Larry atacked him. Fortunately for rocket, he was was able to break the thug's arm and killed by by kicking him to the opposite wall.
Appearances
Edit
Ad blocker interference detected!
Wikia is a free-to-use site that makes money from advertising. We have a modified experience for viewers using ad blockers

Wikia is not accessible if you've made further modifications. Remove the custom ad blocker rule(s) and the page will load as expected.