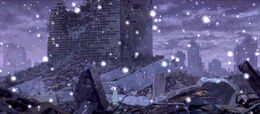 New York City was a major human city before the Machine War. The Headquarters of the United Nations was based there, which is where the Machine ambassador signed the Instrument of Surrender and then exploded, killing all world leaders and destroying the last city on Earth that was left as a refuge.
Ad blocker interference detected!
Wikia is a free-to-use site that makes money from advertising. We have a modified experience for viewers using ad blockers

Wikia is not accessible if you've made further modifications. Remove the custom ad blocker rule(s) and the page will load as expected.