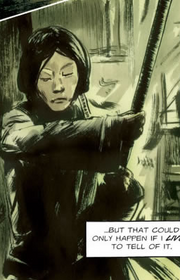 Nova was a girl from Zion. She heard and admired the stories about brave Flint, the first Collector.
Eventually she joined him to the Polaris as a Collector and went together to the surface to collect artifacts.
She knew that he now was reluctant after losing his first ship, the Pequod. She followed him in his last expedition where he was ready to die battling a sentinel with a spear, surgically hitting and cutting its tentacles, however he was torn by it.
After his death, Nova was left alone but managed to best the sentinel and buried Flint along with the other crewmembers of the Pequod but decided to not mention his death to Zion and let his legend go on.
Appearance
Edit
Ad blocker interference detected!
Wikia is a free-to-use site that makes money from advertising. We have a modified experience for viewers using ad blockers

Wikia is not accessible if you've made further modifications. Remove the custom ad blocker rule(s) and the page will load as expected.