Novalis
Captain:
First Mate:

???

Operator:

???

Biographical Information
Year Built:

Unknown

Size:

Large

  

The Novalis is a Zion hovercraft.
The Novalis is part of the fleet sent to intercept the invading Sentinels. It is disabled when Bane sets off the EMP on the Caduceus, and is subsequently destroyed.[1]
The wreckage of the Novalis was in fairly good shape, and the ship was quickly rebuilt using spare parts available in Zion, and renamed the Novalis II.[2]
Its name comes from Novalis, an 18th century German novelist and poet.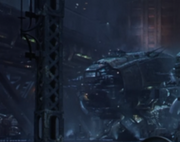 References
Edit
Ad blocker interference detected!
Wikia is a free-to-use site that makes money from advertising. We have a modified experience for viewers using ad blockers

Wikia is not accessible if you've made further modifications. Remove the custom ad blocker rule(s) and the page will load as expected.