Ad blocker interference detected!
Wikia is a free-to-use site that makes money from advertising. We have a modified experience for viewers using ad blockers

Wikia is not accessible if you've made further modifications. Remove the custom ad blocker rule(s) and the page will load as expected.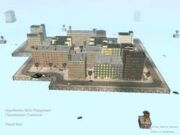 Sati's Playground was a construct which was beleived to have been created by the exile Sati herself. If there is a Sati's toybox (bought from a vendor in Mara) in the players possession, the operatives can fight the creatures in the box and gain a reward.
Inhabitants
Edit
Chi-mon Kunoichi
Tenmon Kunoichi
Intonjutsu Kunoichi
Choho Kunoichi
Boryaku Kunoichi
Sui-ren Kunoichi
Bajutsu Kunoichi
Shinobi-iri Kunoichi
Hensojutsu Kunoichi
Kayakujutsu Kunoichi
Kusarigamajutsu Kunoichi
Naginatajutsu Kunoichi
Sojutsu Kunoichi
Shurikenjutsu Kunoichi
Bojutsu Kunoichi
Kenjutsu Kunoichi
Taijutsu Kunoichi
Seishin-teki kyoyo Kunoichi
Sleepwalker
Edit
Mr. Bartle
Ms. Finch
Mr. McNeal
Mr. Meters
Ms. Osburn
Mr. Quimby
Ms. Tucker
Ms. Walls