This article is either missing an appropriate picture or needs another one.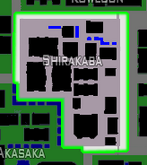 Shirikaba was a neighborhood within the International District between its other neighbors Kowloon and Sai Kung. The residing Exile contact is Yuusuke Akayama and the exile gang in the neighborhood are the Great Wall Security.
Ad blocker interference detected!
Wikia is a free-to-use site that makes money from advertising. We have a modified experience for viewers using ad blockers

Wikia is not accessible if you've made further modifications. Remove the custom ad blocker rule(s) and the page will load as expected.