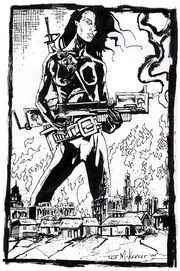 Ted McKeever
is an is an award-winning American comics artist, famous for a number of works including Metropol and Eddy Current.
He wrote and illustrated two of The Matrix Comics: "A Life Less Empty", from Series 1 and "The King of Never Return" from Series 2 which he drew a pin-up for; these were included in Volumes 1 and 2 respectively. He also worked with Keron Grant on "Day In... Day Out", writing the story.
Ad blocker interference detected!
Wikia is a free-to-use site that makes money from advertising. We have a modified experience for viewers using ad blockers

Wikia is not accessible if you've made further modifications. Remove the custom ad blocker rule(s) and the page will load as expected.