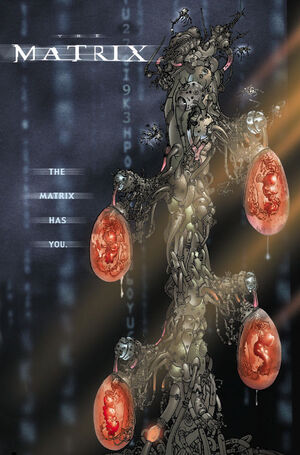 The Matrix: Comic Book Preview was a sixteen page booklet printed in March 1999 and meant to be given away at the release of The Matrix but was recalled instead when the content was deemed too controvertial.[1]
It included the Series 1 introduction, the comic "Déjà Vu", pin-ups by Bill Sienkiewicz, Ted McKeever and Aron Weisenfeld as well as adverts for the comics, the film and The Matrix: Music from the Motion Picture.
A blond woman in a white overall holding two guns sitting on a giant telephone handset, by Bill Sienkiewicz
Tiera sitting in her room: the first page of "A Life Less Empty" by Ted McKeever without captions
A redpill falling out of a building towards street level: a partly colored version of Aron Weisenfeld's "Run, Saga, Run" pin-up
References
Edit
Ad blocker interference detected!
Wikia is a free-to-use site that makes money from advertising. We have a modified experience for viewers using ad blockers

Wikia is not accessible if you've made further modifications. Remove the custom ad blocker rule(s) and the page will load as expected.