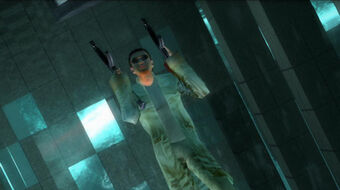 "Ready for a real fight?"
―Tiger Vamp after Neo defeated Agent Jones [src]
The Tiger Vamp was a Vamp Exile dreamt of by Neo.
Before being freed, Neo had a dream of a surreal Government Lobby, with waves of characters arriving in the lift to kill him. After defeating the security guards, police, S.W.A.T., riot police and Agent Jones the Tiger Vamp appeared. Walking on the ceiling he taunted Neo and proceeded to shoot him with an automatic gun.
Neo saw him again walking upside down on the ceiling of Club Hel's gun room before he disappeared. He later appeared in the level The Frenchman, in which he is one of the six henchman to fight Neo, who succeeds in killing him.
Appearance
Edit
Ad blocker interference detected!
Wikia is a free-to-use site that makes money from advertising. We have a modified experience for viewers using ad blockers

Wikia is not accessible if you've made further modifications. Remove the custom ad blocker rule(s) and the page will load as expected.