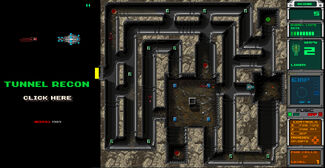 Tunnel Recon is a flash game made for the official website's arcade.
You play as either the Nebuchadnezzar or the Logos picking up fuel scattered throughout the tunnels while avoiding and/or killing Sentinels. An endurance/shoot 'em up game, the player tries to get through as many levels as they can with each of levels getting progressively harder.
External links
Edit
Ad blocker interference detected!
Wikia is a free-to-use site that makes money from advertising. We have a modified experience for viewers using ad blockers

Wikia is not accessible if you've made further modifications. Remove the custom ad blocker rule(s) and the page will load as expected.