Disc Eight: The Roots of the Matrix was the eight disc in the Ultimate Matrix Collection. It contained two in-depth documentaries on the historical, philosophical, and technological inspirations of the trilogy and its spin-off Animatrix shorts.
Specifications
Edit
Color, Anamorphic Widescreen
Languages:
Subtitles:
Easter Eggs
Edit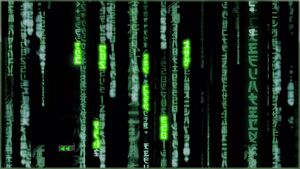 US Edition
Edit
Go to the DVD Credits Menu.
Press right to highlight the main box. Press enter.
The DVD Easter Eggs Menu will pop up. Use your remote to highlight parts of the code to access the featurettes.
European Edition
Edit
Select the Languages menu.
Click on the arrows to the right of the Subtitles
Click on the arrows to the right of the new set of Subtitles.
Click on the Warner Video credits box.
The Easter Egg menu appears. Select one of the code streams to play the hidden featurette.
Featurettes
Edit
There are seven featurettes; four in a row at the top, one in the middle and two below. In that order, the featurettes are about:
Ad blocker interference detected!
Wikia is a free-to-use site that makes money from advertising. We have a modified experience for viewers using ad blockers

Wikia is not accessible if you've made further modifications. Remove the custom ad blocker rule(s) and the page will load as expected.