Ad blocker interference detected!
Wikia is a free-to-use site that makes money from advertising. We have a modified experience for viewers using ad blockers

Wikia is not accessible if you've made further modifications. Remove the custom ad blocker rule(s) and the page will load as expected.
There are six unnamed hovercraft included in The Matrix Reloaded, and five inThe Matrix Comics; and two unnamed hovercraft appearing in The Animatrix: 
The Matrix ReloadedEdit
These six vessels can be seen in the scene where the Nebuchadnezzar returns back to the Zion dock. 

This large hovercraft can be seen to the bottom right of the Nebuchadnezzar as it passes Gate 3.

This small hovercraft can he seen just to the right of the large hovercraft mentioned above.

This small hovercraft can be seen to the left of Gate 3 as the Nebuchadnezzar comes in.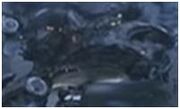 This medium sized hovercraft can be seen just to the right of the smaller hovercraft listed above.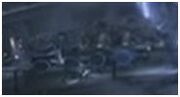 This small hovercraft is farther away from the medium hovercraft listed above, but is still on the dock floor.
This hovercraft can be seen in front of the Nebuchadnezzar as Link touches it down.
The Matrix ComicsEdit
One is a ship used for carrying potentials and is unnamed.
Another crashed in the fetus fields, and only one of its crew members survived. He found a strange man who knew nothing of the Matrix but was convinced that the fetus harvesters were dragons.
The fourth ship was used to destroy money that had a virus attached to it
The fifth and final unnamed ship was used by a crew that saved a girl who could change her residual self image.
The first ship whit appear in The Animatrix Matriculated. This is an area collapsed on the ship whose crew captures and reprograms sentinel.
The second ship appear in The Animatrix Program; Short film in this training two crew menbers seen in an Eastern context where regret playing with the girl to the point of making believe that you're alone in the program being asechada entrnamiento his loving.