This article is about the cat in the Animatrix segment Beyond. For the construct, see Yuki (Construct).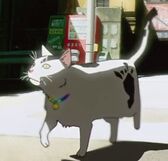 Yuki was a cat owned by Yoko in the Matrix. The cat had the habit of wandering off. While searching for her, Yoko meets a bunch of kids who say that the cat is in the haunted house, leading Yoko to discover the surreal environment inside the house.
Appearances
Edit
Ad blocker interference detected!
Wikia is a free-to-use site that makes money from advertising. We have a modified experience for viewers using ad blockers

Wikia is not accessible if you've made further modifications. Remove the custom ad blocker rule(s) and the page will load as expected.